Check one or more of the categories listed below to see them displayed on the map:
If you have any suggestions to new places to include in our map please click here (it only takes a couple of minutes).
Click on the icons displayed on the map for details. You can zoom in or out by using the + / - buttons at the top left corner or with the scroll feature on your mouse.
---
Sport in Sevilla
Sport Entertainment
Spain is much more than the beach tourism and people coming to enjoy the relaxed atmosphere. In fact many people travel all the way to southern Spain to combine vacation and practising their favourite sport.
Apart from the possibility to practice all kind of sport activities in Sevilla (see below) it is also possible to enjoy top professional sport entertainment in the province. If you are interested in soccer you can find the 2 first division clubs Real Betis and Sevilla F.C. who are competing against some of the best soccer clubs in the world such as Real Madrid and Barcelona.
For people more interested in golf the international European Tour visits the province of Malaga (2 hours by car from Sevilla) each year as well as many other smaller tournaments throughout Andalucia.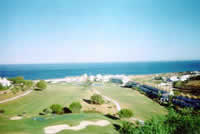 Among the most popular sport activity practised Andalucia is golf. In this region you can find some of the best golf courses in Europe and the perfect weather in the south makes it possible to play nearly all year around.
Apart from golf you can also find activities for people interested in the nature or adventure sports.
The many mountains surrounding Sevilla makes it a perfect place for rock climbing, trekking or mountain biking.
For people who are looking for more traditional sport activities such as soccer, tennis and squash it is also easy to find.
Below you can find some examples where to practise different sport activities.
Adventure Sport
-Rock Climbing, Trekking, Mountain Biking;
Aloa Aventura
Avda De Garcia Morato, 9.
Phone 954 270 801
Club Alpino Sevillano
Salvador Tvora, s/n.
Club Latitud Sur
Manuel Fal Conde, 4, local 3.
Phone 95 462 84 02
Turalsur. Turismo Alternativo del Sur
Monte Carmelo, 31.
Phone 687 853 978
http://www.turalsur.com
-Air Sport
Green Aerostacion (Round Trips in Globe)
Gines, 9.

Real Aeroclub de Sevilla
Aerdormo de Tablada.
Phone 954 456 435
Club de Pacaraidismo Deportivo (paragliding and parachuting)
Monte Carmelo, 4.
Phone 954 451 267
http://www.paraclubsevilla.com/

-Motor Sport
Real Automvil Club de Andaluca
Avenida de Eduardo Dato, 22.
Phone: 954 631 350

Golf
Real Club de Golf de Sevilla
Autova Sevilla-Utrera, Km. 3,2.
Phone 954 124 301
http://www.sevillagolf.com/
Las Minas Golf
Ctra. Isla Mayor, Km. 0,8.
Phone 955 750 678

Zaudin Golf
Ctra. Tomares-Mairena, Km. 1,5.
Phone 954 153 344
Los Arqueros
Ctra. de Ronda, km. 42,9.
Phone 908 788 132 139

Water Sport
-Water Sport
In Sevilla you can practise water sports in the river Guadalquivir or on the coast of Cadiz about 1 hour away from Sevilla.
Sailing Municipal Centre
Rio Guadalquivir (between Puerta de Triana and Puente del Cachorro)
Phone 95 446 02 02
Club Sato Sport (Diving)
Manufactura, 13.
Phone 955 602 479
http://www.buceomediterraneo.com/
Wind Surf Tarifa
http://www.windtarifa.com.
-PublicSwimming Pool
Piscina Municipal Virgen de los Reyes
Avenida del Doctor Fedriani, s/n.
Phone 954 376 866
Club Natacin Sevilla
Tratmara, 9.
Phone 954 218 704
Piscina Tomares
La Solana, s/n.
Phone 954 153 866
Piscinas Sevilla
Avenida Ciudad Jardn, 81.
Phone 954 635 892
Other Sport

-Public Sport Installations
Facilities - Tennis, Paddle,Indoor football, Basket, Volley ball etc.
Rochelambert Sport Centre
D Francisquita, 2.
Phone 954 653 153
Hytasa Sport Centre
Hroes de Toledo, s/n.
Phone 954 925 994
San Pablo Sport Centre
Avda. Kansas City s/n.
Phone 954 596 864
Antares Andaluca
Genaro Parlade, 7.
Phone 954 615 645