Nearby Locations Barcelona
There are many interesting towns to see in the province of Barcelona and Catalonia. Below you can find information about the most popular places to visit nearby Barcelona.
Aragon & the Pyrenees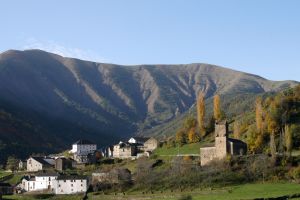 The Aragon Pyrenees is part of the Pyrenees mountain range that creates the border between France and Spain and located about 3 hours from Barcelona.This specific region is in the central area of the Spanish Pyrenees in Huesca, which is a province in the northern Aragon region of Spain.Aneto, the tallest summit of all the Pyrenees is in Huesca, reaching 3,404 meters (11,168 feet) in height.Ordesa y Monte Perdido National Park is also found in this area.Since 1918 the park has been a protected site and is declared a UNESCO World Heritage Site.Huesca was the birthplace of the ancient Aragon kingdom. It is also quite interesting because it is home to the last areas where Aragonese is spoken. although much of the Aragon region is made up of terra incognita (unknown territory), there are many parts of the Aragon Pyrenees that are ideal for summer hiking adventures and wonderful skiing in the winter.
Zaragoza, the capital of Aragon is very popular among tourists, partly because it is a main stop between Madrid and Barcelona.The city's population is calculated at over 700,000 which makes it one of the largest in Spain.It is located on the EbroRiver and offers a variety of landscapes. Are you looking for guided tours to Aragon then we can recomend this option Aragon.
Girona
Girona (105 km north of Barcelona) is Northern Catalonia's largest city, positioned on the River Onyar and surround by a medieval city. It has many monuments to see, such as their fine baroque Catedral, Romenesque Museum of Art, and Arab baths.
Girona has an airport, situated just outside of the city and many low-cost airlines use this airport, or use the preface that it is Barcelona which is about an hours bus ride away, yet this has increased the attraction of Girona itself for tourism. There are also train and bus services from Barcelona. If you are interested in participating in an arranged tour to Girona we can highly recommend this option Girona and Salvador Dali Theatre Museum.
Andorra
The principality of Andorra is a small country between France and Spain in the eastern Pyrenees mountains.From Barcelona it is about 200 km and takes almost 3 hours by car.Tourism is the main source of economy for Andorra, as it has over nine million tourists visiting annually.Andorra is a tax haven; its duty-free status as well as many summer and winter resorts are a big draw for tourists.The official language is Catalan, Spanish is spoken as well and you can also hear French, Portuguese and English among the locals.Andorra has a rich history filled with folklore.There are many traditional tales and dances that, although they are mainly connected with the Catalan culture, have roots originating in the south of Spain and at the same time as far as The Netherlands.
Tarragona
Situated south of Barcelona along the coast is Tarragona (the capital of the province also called Tarragona). It is still in the Catalonia region, located just over 100 km from Barcelona. Almost 60% of the province's citizens live in the capital, giving it a population around 130,000.Tarragona's roots, much like the rest of Spain, go back to the Roman era, but Tarragona is known as one of the most important Roman towns in all of Spain.There are many monuments in the city that uphold the Roman essence still today, such as: Amphitheatre Romá, ArchaeologicalMuseum, and Museum Necròpolis and even many Roman ruins. Due to its costal spot, there are several beaches to enjoy. If you're in search of some amusing entertainment, one of Europe's largest amusement parks, Universal Port Aventura, is located just 9 km from Tarragona.
The train station in Tarragona is located near the port and the city's main street, Rambla Nova and there are daily trains to and from Barcelona. For arranged tours in Tarragona we can recommend this option Taragona Biking and Wine Tour
Tossa De Mar
This Nautically themed coastal town contains a history of being home to artists and writers. It is a pleasant change from Barcelona's hustle and bustle. Here, you can wander around the medieval old town's windy streets, seeing castle ruins and a lighthouse. The city beach can be busy, but a little further on you can find pretty coves with small beaches. To arrive here, there are up to 10 buses daily from Barcelona's main station, Estació del Nord.