General Info About Madrid
Madrid is the capital of Spain and lies in the center of the Iberian Peninsula 646 meters above sea level. The city has a population of 3 million inhabitants and the climate varies from very warm and dry in the summer to rainy (and sometimes with snow) in the winter. Madrid has traditionally been the connecting point between all parts of Spain and although the town is location in the central part of the peninsula the rest of Spain is within a relatively easy reach by air, train or road.
Madrid is the economical and industrial center of Spain and with its central location it is easy to reach from all over the country and there are flights to Madrid from all over the world as well. The most important sectors in the capital are the production of alimentary products, chemicals, metals and the construction sector as well as the bank, commerce and administration sectors. The tight economical relation between Spain and South America makes Madrid the center of foreign investments in South America and home to many international companies such as Telefonica, Iberia and Repsol YPF.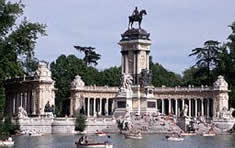 As capital of Spain, Madrid is also home of the Royal family, the Spanish Government and many other national institutions. The town has a long and fascinating history and all over Madrid there are monuments and museums of great artistically value (see Museums or Monuments). Apart from the Capital the province of Madrid is also full of interesting sites to visit such as El Escorial, Arranjuez and Alcala de Henares all named UNESCO World Heritage Cities. (see Nearby Towns ).
Madrid is also a very international city with a lot of foreign students and tourist visiting the town. This combined with the "Madrileos" passion for going out at night makes the town a great place to eat out with a numerous variation of national and international restaurants. Apart from the restaurants the town has an interesting and varied nightlife with bars and discotheques open all year and all week around. (see Going Out at Night)