General Information About Sevilla
Sevilla (Seville) is located 80 km. from the cost of Andalucia on the banks of the Guadalquivir a navigable river with contact to the Atlantic Ocean. It is the 4th largest city in Spain with more than 700.000 inhabitants and Capital of Andalucia (the most southern region of Spain). Within 2 hours drive from Sevilla you can reach Portugal and Granada and Malaga are also within a short reach. The town has a hot Mediterranean climate with more than 300 days of sun a year.
Apart from being the capital of Andalucia Sevilla is also the industrial center of southern Spain. The most important sectors are the chemical and pharmaceutical as well as the metal industry. The province of Sevilla has traditionally been an agricultural region and due to the climate with more than 300 days of sun it has an important production of citrus fruits and olives.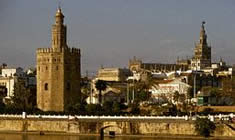 The history of Sevilla dates back to the Tartessian civilization from the 9th century B.C. and has later been occupied by the Romans and the Moors. Many monuments from the different periods are still to be found all over Sevilla. Today Sevilla is a modern and dynamic city.
It has lately hosted international important events as the Expo in 1992 and the world championship in athletics in 1999 and is a one of the candidates to host the Olympic Games in 2012.
Every year Sevilla celebrates two important events, which are famous not only in Spain but all over the world. The first event is Semana Santa (Wholly Week) a religious festival with processions carrying images of the Virgin Maria or Christ. Two weeks after Sevilla celebrates 'La Feria de Abril', a weeklong town celebration in an open square with music, dancing, concerts, eating and drinking. Apart from these celebrations Sevilla has an interesting nightlife throughout the year and the people in Sevilla the 'Sevillanas' are known for spending all there free time in the streets or in the local bars or cafeterias.