Nearby Towns of Malaga
There are many interesting things to do and see in the province of Malaga and in the nearby towns in the rest of Andalusia. Below you can find information about the most popular places to visit nearby Malaga. If you are looking for arranged group excursions please see the section Tourist Activities in Spain.
East to the town of Malaga, about 1 hour by bus, you find a little village called Nerja. This is a typical Andalusian village with its white houses and a beautiful view to the sea. Nerja is specially known for its old caves (more than 3000 years old) with colossal stalactites.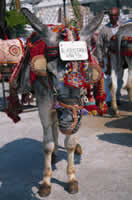 Mijas is another interesting village to visit. It is located in the mountains West of Malaga just after leaving the seaside in direction of Torremolinos. The main tourist attraction in the village is taking a ride in one of the many donkey taxis available (see photo).
To the West of Malaga along the coastline you can find towns such as Torremolinos, Benalmadena and Fungiola which all are known for their beaches and classical tourist attractions (aqua parks, amusement parks etc.).
Further West you reach the most popular golf courses in Spain between the towns Marbella and Estapona. Marbella is also known as the "Monaco of Spain" with exclusive seaside resorts, a port with luxurious yachts, expensive restaurants and designer shops.
For people interesting in taking a weekend trip a bit further away Granada or Sevilla are a good options.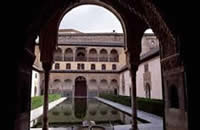 Granada is a town for cultural as well as other entertaining activities. Apart from the beautiful Moorish monuments (i.e. see Alhambra on the photo) the town is full of life (day and night) as it is a university town with more than 60.000 students. During the winter the ski sport resort Sierra Nevada is an option for ski fans lying just an hour away from Granada.
The capital of Andalusia, Sevilla can also provide visitors with both cultural and non-cultural attractions and is specially popular during the wholy week and the April festival (Feria de Abril).
In the province of Cadiz (to the West of the province of Malaga) people interested in wind surfing can find one of the best places in the world - Tarifa. From Cadiz it is also possible to visit the rock of Gibraltar, the British none tax colony in the Iberian Peninsula. For people interesting in seeing the capital Cadiz it can be recommend to go there during the carnival (February), as they celebrate it with great style.