Nearby Towns Salamanca
There are many interesting places to visit in the province of Salamanca and in the nearby towns in the rest central Spain. Below you can find information about the most popular places to visit nearby Salamanca. If you are looking for arranged group excursions please see the section Tourist Activities in Spain.
To the Southwest of Salamanca are located the area 'La Sierra de Francia', which is worth a visit for its beautiful natural surroundings and interesting villages. One of these villages is La Alberca, which in 1940 was declared national heritage and is a good example of a typical small village in the center of Spain.
The Village Bejar located to the South of Salamanca offers visitors fascinating sights. In this small villages you can find one of the oldest bullfighting rings in Spain as well as the Ducal Palace from the 17th century and remains of a Moorish fortress.
To the East of Salamanca are located the second biggest town of the province of Salamanca 'Ciudad Rodrigo'. Ciudad Rodrigo is a delightful medieval town with a lot of Monuments from different periods. To mention a few there are the Cathedral from the 15th century, the town hall from the 16th century, the Castle of Enrique II and the palace de Mocterzuma.
If you are interested in taking a weekend trip a bit further away Madrid or Portugal are interesting options.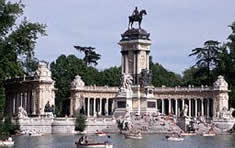 Madrid is the capital of Spain and is a modern Metropolitan City, which has a lot to offer tourist visiting the town. Apart from all the monuments in Madrid (see our Madrid Guide for further information) the city is famous for its museums as the Prado and Reina Sofia.

In Madrid you can also find attractions a small town as Salamanca can't provide such as amusement parks, mayor sport events or international concerts.
Salamanca is located only 50km. away from the Portuguese border, which makes Portugal an interesting destination for a weekend trip. On the other side of the border there are many interesting small villages similar to the villages in the province of Salamanca. If you wish to go a bit further away Porto on the Atlantic coast is a possible destination. Porto is the second largest city of Portugal and is famous for its wine production of the Port wine. The Portuguese beaches are also the closet beaches to Salamanca and this can be a refreshing experience during the hot summer.